In June 2008 there was an article about us in the German edition of Wirtschaftsland. As we just got to know, this article has been chosen to be translated and published in the English variant of the magazine - Businessland. This is a magazine that covers science, business and technology in Schleswig-Holstein.

The article is titled "World-renowned software specialists". Its tenor is still quite favorable and positive, but we'd translated some phrases a little bit different.



assono means "sound in accompaniment" (from Latin: assonare) - as we want to join the "orchestra" of IT processes and software of our customers and to enhance the result with our "instruments". And we talked about "design patterns", not "design models".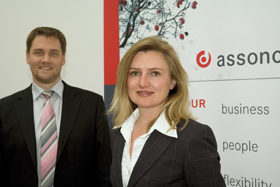 Quelle: World-renowned software specialists, Businessland, edition 02.2008, November 2008