On a new installed Windows and new installed Notes Admin and Designer Client 9.0.1 I tried to install Fix Pack 4. Unfortunately I received an error message.
Error - version mismatch. Expected to find version: "20131022.0932", found version(s): "20131015.0605"
The only matching IBM Technotes I found were LO80281: Version Mismatch When Installing 901 FP1 and Notes fix or hotfix installation fails with "Error - version mismatch.".
The suggested solution using the Notes Install Cleanup Executable (NICE) tool made no sense on a new installed Windows with a fresh installed Notes client.
But luckily I found an older blog entry from Dmytro Pastovenskyi 8.5.1. FP1 found problem during installation. Error: version mismatch. Expected to find version "20090929.1223", found version(s): "20091002.1006".
He suggested to unpack the Fix Pack and then goto to the deploy\hotfix directory.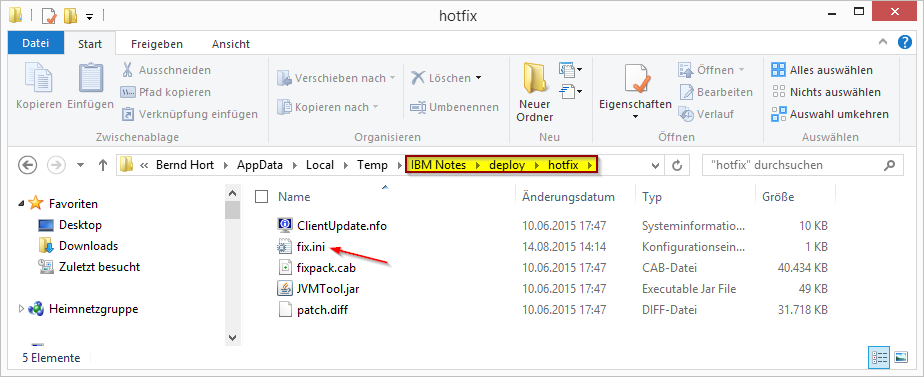 Within this directory is the fix.ini. Just change the line ForVersion to ForVersion=20131015.0605.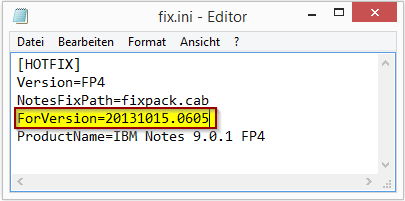 After that change the installation went through. I also patched the JVM in this client as described in Interim Fixes & JVM patches for 9.0.1.x versions of IBM Notes, Domino, iNotes & Notes Browser Plug-in.
So far I experienced no problems. Actually I'm writing this blog entry in the updated Notes Client.