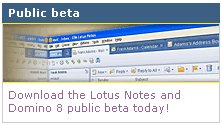 Finally, long awaited and for "early next week" announced (see Ed Brills Blog), the public beta 2 of IBM Lotus Notes/Domino 8 is available. You can register here: http://www.ibm.com/lotus/getnd8now and than download the beta 2 version.

IBM Lotus Notes/Domino 8 beta 2 is published for the following platforms:
Windows
AIX
iSeries
Linux
Solaris (Sun Microsystems)
If you select all files offered for
Windows, you have to download about 1.6 gigabyte of data!





The download performance is good now.
We will see, what happens over the next days, when the good message spreads...


By the way, there are two Notes clients:
Notes 8 Basic client (Notes/Designer/Admin clients) (C++, 192MB) and Notes
8 Standard client (eclipse) for Windows XP (623MB).