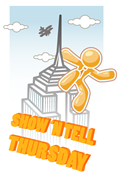 Today I've attended a Jumpstart session by Andy Pedisich at the ADMIN2007 Europe conference.

Along a lot of other really useful stuff, tricks and best practices, he showed us a Excel sheet, he developed years ago, which he uses to add databases (with the same file name and path, like log.nsf) from a lot of servers to his workspace. Essentially,
he opens the servers view in his Domino Directory,
selects the servers,
copies the selection as table,
opens the excel sheet,
pastes the servers,
edits the file name of the database,
selects and copies the calculated @Command formulas to add the database to the workspace,
creates a new Toolbar button,
pastes the @Commands,
closes the Toolbar button and
clicks on it.

Seeing this, I wondered, if there is no short cut? And really, there is:
Just create one new Toolbar button once (File - Preferences - Toolbar Preferences..., Customize, Choose a Toolbar to modify and in the Toolbar contents click New - Button..., ) with the following formula:

_names := @Subset(@MailDbName; 1) : "names.nsf";

_servers := @PickList(ustom _names; "Servers"; "Select servers"; "Select servers to add database from"; 3);

_db := @Prompt(kCancelEdit "Enter database"; "Enter the file name and path of the database to add."; "log.nsf");

@For(
n := 1;
n <= @Elements(_servers);
n := n + 1;
@Command(ddDatabase _servers: _db)
)

If there are more servers or address books to choose the Domino Directory from, you could replace the first line with:
_names := @Prompt(hooseDatabase "Choose Domino Directory"; "Choose the Domino Diretory to choose the servers from");

Or if there is only one Domino Directory and you have a current local replica, you could use something like the following line in place of the first line above:
_names := "" : "server-names.nsf";

Update:
The square brackets around AddDatabase (in the @Command) were missing. They were removed by the blog engine, because the text was formatted in blue?!?!?

Thanks to Andy Pedisich for notifying me.