After I had arrived yesterday evening, today started the

and


with the Pre-conference Jumpstart day.

In the (Sunday!) morning I've attended Sametime 7.5.x Deployment and Upgrade, Without the Aspirin by Chris Miller, Connectria. He showed us a lot of stuff - and as always, in his own pace



Among other things,
he installed a Sametime 8.0 server live,
remembered us to disable hyper threading,
told us that the UpgradeUtil does its job only incompletely, when converting from Domino to LDAP.
gave us reasons to prefer LDAP over Domino,
showed, what to consider about, and how to calculate network bandwidth and
last but not least, how to plan and implement a really scalable Sametime structure.

After a very Spartan lunch, I let Andy Pedisich, Technotics tell me everything about Server Monitoring and Statistic Collection 101.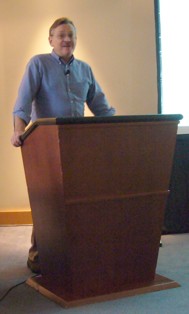 He showed us,
how to get statistics,
how to collect them,
how to extract meaningful information from the data,
how to define events and notifications and
how useful the Activity Trends are.

He showed us an utility Excel sheet to quickly and easily add databases (with the same filename, but from different servers) to the workspace. I created an Notes-only alternative: SnTT: Add database from different servers to workspace.